Next-Generation
Technology Solutions
for the Built Environment
Commercial water heaters and products designed for
increased efficiency, reliability, safety, and sustainability
The water heating industry has been using the same outdated technology for decades. Intellihot's innovative commercial water heater technology eliminates the amount of water stored by heating water reliably and on-demand. Intellihot provides customers with the dependability and peace of mind they need to focus on other aspects of their business. Intellihot's technology-enabled products also use real-time monitoring to predict service and maintenance needs, reducing customer capital and operational costs.
Intellihot Gen II products
See How Intellihot Transforms the Built Environment
Our innovative clean technology does more while consuming less. Intellihot products reduce risk, eliminate worry, save energy, and increase safety, setting the benchmark for superior performance and efficiency to advance a waste-free future.
What is a tankless water heater?
Tankless water heaters, also known as demand-type or instantaneous water heaters, provide hot water only as it is needed. They don't produce the standby energy losses associated with storage water heaters, which can save you money.
What are the benefits of a tankless water heater?
Tankless water heaters are compact in size, taking up less space than conventional tank type water heaters.
They can virtually eliminate standby losses - energy wasted when hot water cools down in long pipe runs or while it's sitting in the storage tank.
By providing hot water immediately where it's used, tankless water heaters waste less water. You don't need to let the water run as you wait for hot water to reach a remote faucet.
A tankless water heater can provide unlimited hot water as long as it is operating within its capacity.
Expected life of tankless water heaters is 20 years, compared to 10 to 15 years for tank type water heaters.
What should I look for in a tankless water heater?
One of the first things you should do is find out exactly what size tankless water heater you will need. Take a Look at Warranties, and efficiency ratings to make the best selection for your job.
Should I upgrade to tankless water heater?
Using a tankless water heater can reduce these costs by up to 50 percent, for an average annual savings of $80 per 50 gallon tank replacement. They are durable and less likely to fail, causing potentially catastrophic flooding in your home. Tankless units have an average lifespan about twice that of conventional water heaters — 20 years or more
Can you run out of hot water with a tankless water heater?
With a tankless system, there isn't a supply of hot water that can be depleted. Instead, the water heater heats up water as there is a demand for it. ... It will keep doing this as long as there is demand—and that means you won't run out of hot water.
When/why should I cascade my units?
We recommend cascading units when you have a common exhaust system. This is a system where multiple units terminate through 1 pipe, to prevent back pressure from locking out your units on a Blocked Flue Fault.
Use our rep locator tool to find a sales rep near you, or use our sizing calculator for your next project.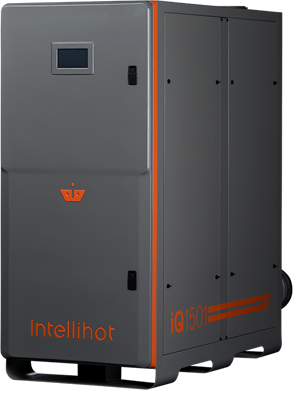 Zero Downtime. Zero Worries. Zero Problems.™
telliCare
telliCare is a Wi-Fi enabled, prognostics and predictive maintenance service for Intellihot's Gen II iQ tankless water heaters. This pre-installed service allows your Intellihot water heaters to be monitored and controlled remotely or onsite through an app on your mobile device.
Keep in touch
with Intellihot.
Learn about the advantages of our tankless water heating systems.
Green (Carbon Footprint)
Compare carbon footprints in the chart below:
| | | |
| --- | --- | --- |
| | Intellihot | Tank Heater |
| CO2 emitted this year (kg) | | |
| Utility cost this year (cents) | | |