Discover our Line of
Commercial Tankless
Water Heaters
Maximum ROI. Minimal Cost.
Intellihot Commercial tankless water heaters perform to nearly impossible standards. As robust as diesel engines, Intellihot systems are built for cutting-edge operations. Reliability is designed into every inch, from maintenance-free heat exchangers to systems that deliver industrial water capacities without risk of single-point failure.
Commercial Tankless Gas Water Heaters
Endless Water. Zero Waste.™
The first drop-in ready tank replacement units that provide all the features and benefits that Intellihot is known for, in a smaller and more compact footprint.

When space and cost are important deciding factors, you can count on our Neuron Series units for superior performance and reliability. Ideal for commercial applications, our commercial tankless water heater products provide 96% thermal efficiency and are constructed for maximum durability – even in the most demanding commercial applications.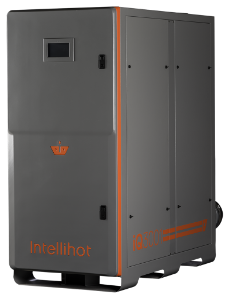 Masterless Cascading Ensures Zero Downtime.
All of our commercial water heaters can be cascaded for increased capacity. Yet each one operates autonomously. This means cascaded units do not require a master controller (the kind that causes a single-point failure).

Designed to be your Commercial "Workhorse."
Count on superior performance and reliability with the i200 and i250 commercial tankless water heaters. Designed to be our commercial "workhorses," these units are ideal for highly variable applications using potable hot water.
Built for Tight Spaces and Tough Conditions.
Smarter, versatile, deionized water heating for labs, factories and plants. Industrial environments demand rugged, deionized-water heaters—and this model meets the challenge.
Zero Downtime. Zero Worries. Zero Problems.™
telliCare
telliCare is a Wi-Fi enabled, prognostics and predictive maintenance service for Intellihot's Gen II iQ tankless water heaters. This pre-installed service is included for two years for free!  telliCare allows your Intellihot water heaters to be monitored and controlled remotely or onsite through an app on your mobile device.
What is the downside of a tankless water Heater?
A tankless water heater can seem to cost slightly more upfront, than an inexpensive inefficient traditional storage tank water heater. While the expense may want to deter you at first, keep in mind that a tankless water heater—with its longer lifespan and energy savings—will pay for itself in a very short time.  
Which is better hot water tank or on demand?
Since tankless water heaters heat cold water to demand, it's possible to have hot water indefinitely as long as you keep the tap running.
How good are on demand water Heaters?
As with any consumer product, there is a range of quality from various manufacturers, from inexpensive and low quality to higher end products with top of the line engineering and materials.  A plumbing professional who installs tankless units on a regular basis with be able to assist you in deciding which product will be best for your specific needs.
What size breaker do I need for on demand water heater?
Multiply 1.25 or 125 % by the rated amp of your device.  Get the closest breaker size based on the final answer
Are tankless water heaters good for commercial use?
The short answer is YES.  Not only are they much more efficient and reliable, they help to reduce business risk in health and safety by not storing large amounts of water.  Stored water is prone to leaks and bacteria. 
Keep in touch
with Intellihot.
Request additional product information from Intellihot.